Anytime Anywhere Access to Your Davenport Account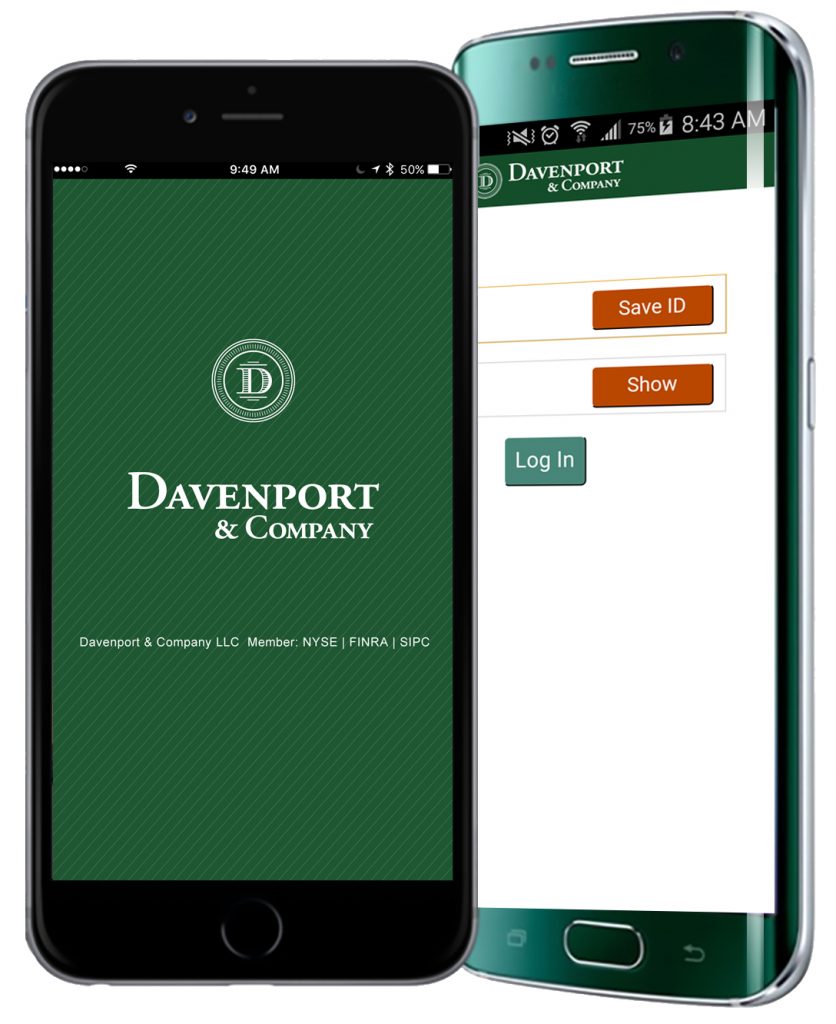 The Davenport Mobile App gives you greater accessibility to your account information, allows you to set up a watch list for your favorite stocks, displays market data and quote information, and allows you to deposit checks from your mobile device into your account. See below for important information about installing the App on your device.
You must be a Davenport client with an online account to use the App. The App is designed to be a quick account overview, it isn't meant to take the place of Davenport Online and it is not meant to be a full examination of your account. For full access to your account information, or to enroll, visit Davenport Online.
To download Davenport Mobile, visit the App Store or Google Play™ Store:


Click Here for More Information about the Davenport Mobile App.
Click Here for FAQs
For assistance, contact Davenport Client Services at 1-888-742-1863.
---
INSTALLING THE DAVENPORT MOBILE APP ON YOUR DEVICE
DEVICES SUPPORTING THE DAVENPORT MOBILE APP:
iPhone (4S or later); iPad Air; IPad Mini
Android (4.1 or later); Samsung Galaxy (S4, S6, S8, S10); Nexus 5, 6, & Galaxy; Nexus Tablet (7, 10)
Please ensure that your device is updated with the most current operating system.
If your device is not listed above, you will not be able to use the Davenport Mobile App.
INSTALLING THE DAVENPORT MOBILE APPLICATION ON YOUR MOBILE DEVICE:
Google (Samsung, Android, Nexus)
Open the Google Play App
In Search box, type "Davenport Mobile"
Click the Davenport Mobile link
On the detail screen, click the Install button
Google will notify you that the application needs access to your SD card: Click the Accept button to begin the download
Once installed, an icon will be created on your device
If you stay on Google Playstore, you will have the option to click the Open button
Apple (iPhone, iPad)
Open App Store
Open Search (lower right hand corner)
Type in "Davenport Mobile"
Tap on the "GET" button (upper right) for Davenport Mobile OR tap on Davenport Mobile screenshots to get more details then tap on "GET" button (upper right)
App's Icon will load onto your home screen
Tap on Icon to begin using app
---
Apple, the Apple logo, and iPhone are trademarks of Apple Inc., registered in the U.S. and other countries. App Store is a service mark of Apple Inc.Android and Google Play are trademarks of Google Inc.